About WoodCookStove.com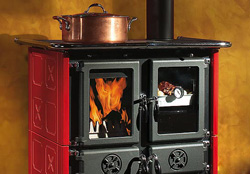 Woodcookstove.com is a US importer of high quality European wood cook stoves. We are also known for our wood fired pizza ovens.

Cook stoves are an affordable, stylish, and dependable way to prepare food and heat your home.
A few years ago we found that the US cook stove market was undersupplied by efficient yet elegant stoves at reasonable prices. To this end we have researched many European manufacturers of wood cook stoves and found the best combination of quality, design, and price in La Nordica cook stoves. We are proud that since then La Nordica stoves have founds hundreds of loving homes in USA!
Unlike other Web sellers we import all our products ourselves directly from manufacturers and stock each model for quick shipping.
Please note: we do not have a physical showroom. Unfortunately there is no way to preview our products in person.
We are authorized dealers of any brand we carry with after-sale support, parts, documentation, and manufacturer warranty.

Yes, we sell in Canada! Wood fired pizza ovens: pizzaovens.ca, wood cook stoves: woodcookstoves.ca, wool blankets: woolblankets.ca

We cherish your feedback! If you would like like to share your experience with your stove, provide tips for other users, write a review, make a video, or just take a picture please do not hesitate to contact us through the online form available on our Contact Us page.
Wishing you all Happy Cooking,
Grills'n Ovens LLC