Wood Cook Stove Guide
There is a right cook stove for each place! Read on and we will help you identify the one for you!
The first thing to consider is the size of your space. All our stoves will be very comfortable in spaces between 1000 and 3000 sf except the Tiny Salamander Range which is designed for spaces not exceeding 500sf.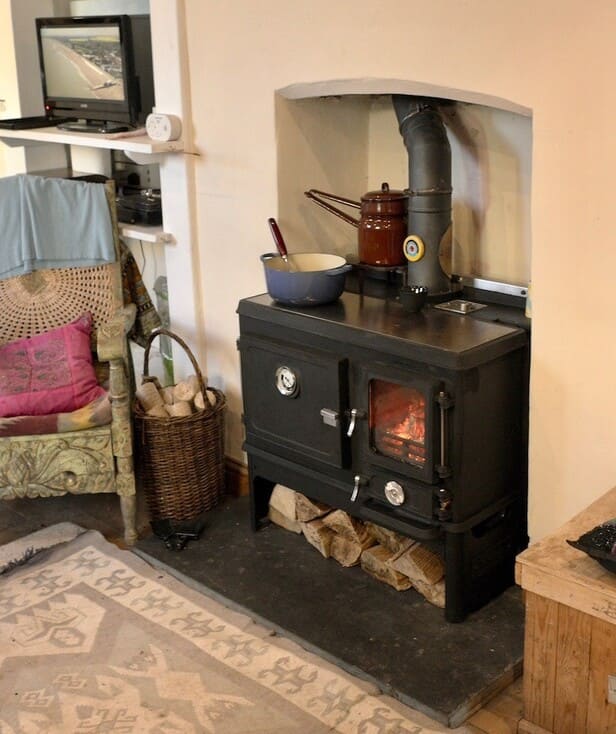 The 2 models that stand out in terms of size are the America (currently being replaced by the Alaska) and the Regina - both have huge fireboxes and are designed for larger spaces, we have a customer with the America in Canada who reported that it heats his 6000sf log house.
A notable difference between America and Regina is that both the firebox and oven are huge on the America but on the Regina the baking oven is quite small, it will do for occasional baking but not to be relied upon as the main oven in the house. However both stoves do have very large cooktops, plenty for cooking all meals year round.
Apart from offering more heat than other models these 2 models accommodate larger logs.
We recommend America & Regina for spaces above 2400sf and all other models for up to 2400sf.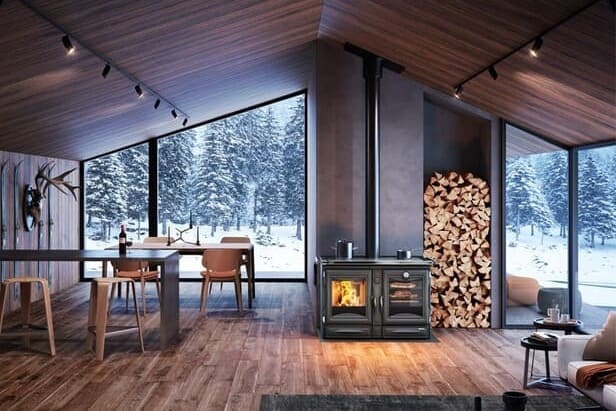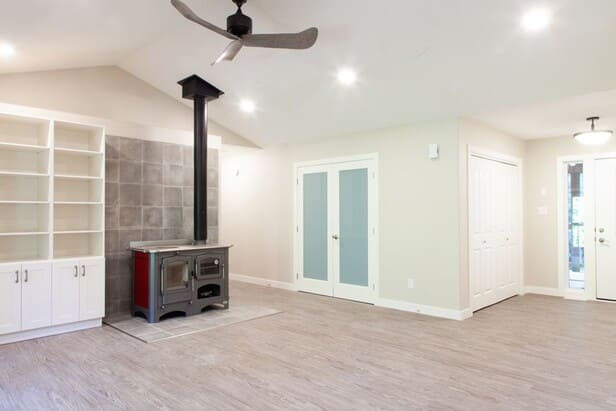 Next thing to consider is whether the stove will be visible from the sides. If not then there is no sense getting a stove with stone or ceramic side panels and a Rosa XXL, Milly, or Clasica with plain sides would be a great fit. But if the sides will be open then consider the Regina with mosaic or soapstone sides or the Rosa Maiolica with beautiful maiolica sides.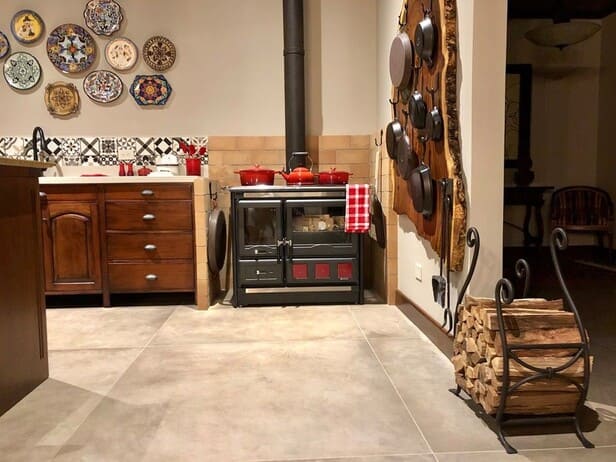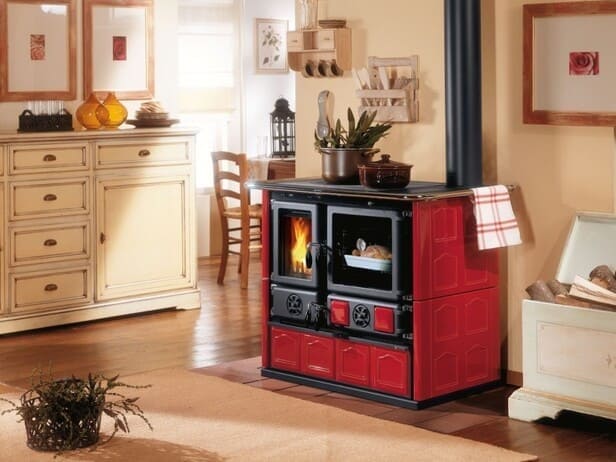 Another important factor is the outside air intake. You will use this feature if you do not want the stove to take combustion air from your room thereby depriving you of breathing air and creating cold drafts on the floor. Many of our stoves have this option: Rosa L and Rosa XXL, Milly, America. However… you may be surprised to find out that this feature is a point of dispute, please see this article by a very authoritative Canadian publication: https://www.woodheat.org/the-outdoor-air-myth-exposed.html
By now you have likely narrowed down your search to just 2-3 models. Here are some important facts to consider about them, most of which stand true for all models:
The Milly is the only model with an optional warmer on top.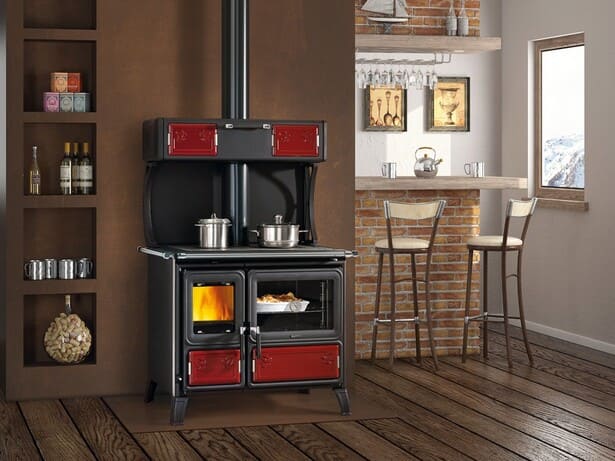 The same warmer fits the Rosa XXL.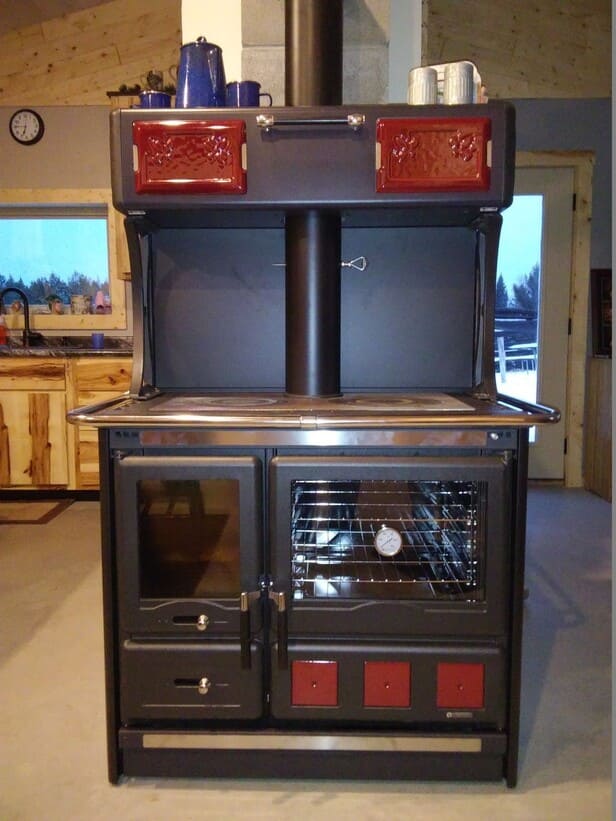 All models other than Regina and Milly have bottom drawers for pots and pans.
America, Regina, Milly, Rosa L, and Rosa XXL have firebricks inside the firebox, other models have cast iron firebricks in the firebox. There is no clear benefit to either option that we were able to identify in the 10 years that we have been selling these, the firebricks need replacement very rarely, the cast iron parts - virtually never.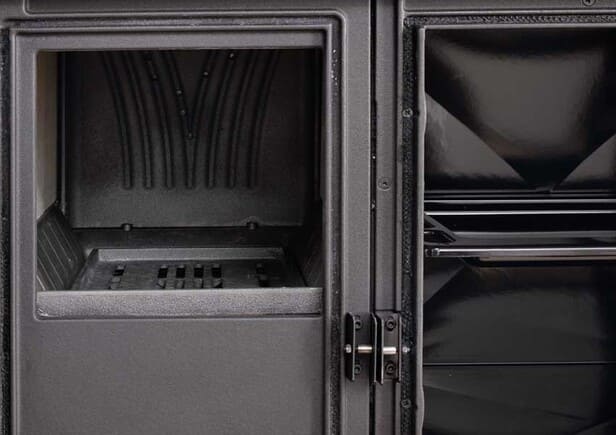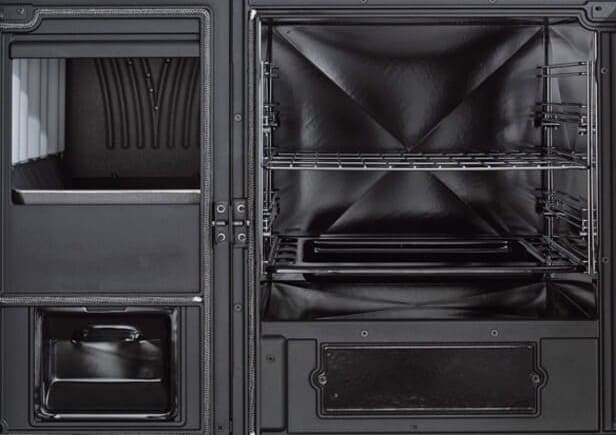 All stoves except the Salamander Range have flue outlets both on top and rear and come with a plate to close the one you are not using and a chimney collar for the one you are venting through.
Chimney outlet cannot be altered on the stove itself, you will need chimney elbows if you cannot position the chimney right under the chimney hole in the roof or ceiling.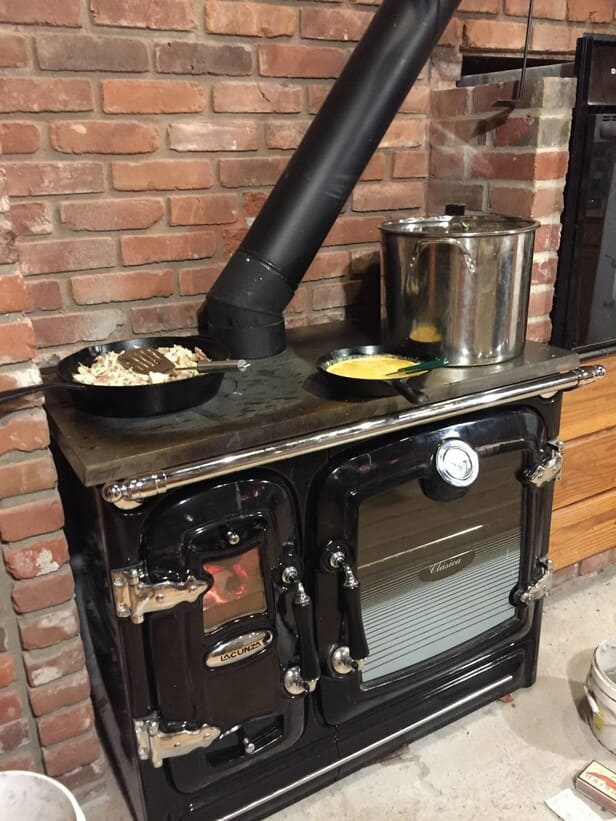 The Rosa Reverse model does NOT have the firebox and oven on opposite sides, it's called Reverse simply because the oven on it is smaller in favor of the larger firebox. It basically sacrifices baking space for the sake of more heat.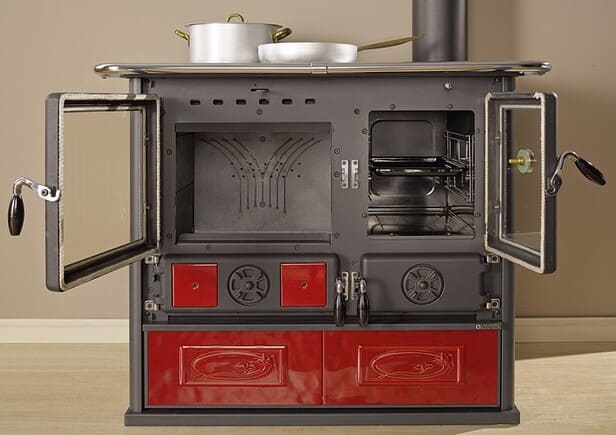 As mentioned before the new Alaska model is replacing the time-tested America. It's an identical stove except for the improved door handles and the prized UL certification.
Speaking of UL: all our models are UL & ULC certified for US & Canada except America, Salamander, and Clasica.
Clasica happens to be our favorite model simply because of the quality of construction. The stove is entirely cast iron with very heavy doors and a great enamel finish.
All stoves will work with a standard 6" wood stove chimney.
A special mention of the Rustica cook stove kit: it's a great way to save money if you don't mind a DIY project. You will need to build brick walls and insert the kit components.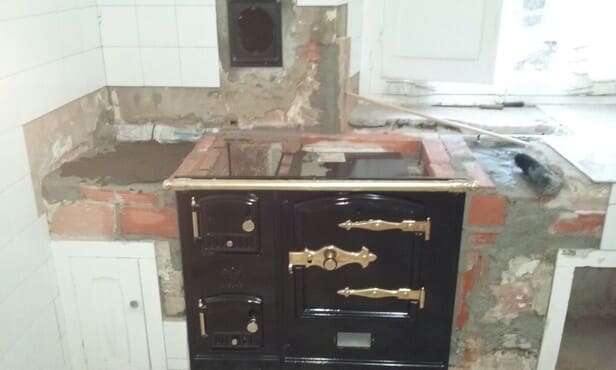 Currently none of our stoves are equipped with a water boiler. However, universal U-kits are widely available for sale online and can be fitted on Rosa XXL and other models with steel sides. You will need to drill 2 holes into the firebox for the intake and outflow.
All our cook stoves have adjustable primary and secondary air as well as a built-in damper that allows you to circulate hot air around the baking oven when baking, or direct it straight to the chimney when not using the oven.
None of the stoves are airtight in the strict sense of the term, which is commonly misused. Even with all air controls closed some air is still supplied to the firebox.
The typical burn time seems to be between 6 and 8 hours for all models and depends on your chimney and wood.
In order to move a 500-700 lb stove to its place in the house many components can be removed and reattached later, including the cast iron cooktop, firebricks and firebox components, the drawer, and the doors. Typically 4 people are needed to move any model though it can be done with 3.
We hope you have found our short guide useful. If you have any questions please feel free to contact us.
We hope you will find a stove that is right for your needs and enjoy its heat and food!